Abandoned Pyramid (A4)
Talk

0
2,880pages on
this wiki
Abandoned Pyramid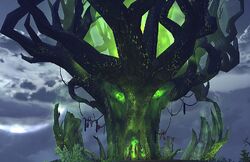 [[ Sector|]]
Also referred to as Webwarden Pass or Desecrated Forest, dark allod occupied with spiders all sizes and types and mad pagans.
Black Widow
During the fight, boss possesses neutral spiders and those have to be killed immediately to avoid swarms of little spiders.
Evsey Volkov
Party has 30 minutes to kill this boss (counter starts when arriving on the allod). Pull with summoner/shaman pet.
Zlobinya Yadov
His pet spider changes targets and shoots poison. Concentrate on the boss and do not kill this spider, or the boss will go into the rage mode.
Black Venom
In order to summon the last boss, party has to kill 10 mad pagans to get the buff. Boss spawns little spiders that cant be targeted and killed and spawns poison on the ground that has to be avoided (deals lot of damage).
Astral traveler Fedor Stablemanov informs:
Is that serious question? Man, I'd give anything to forget that island, but I can't...
A long time ago, Kanian druids took a sprout of the Great Tree to a small desert island and transformed its lifeless rocks into veritable paradise. I was lucky to have been there and I can honestly attest that even in our beloved Empire you won't find many places that could compare to the former glory of that beautiful sunny island. The local pagans had wise mentor named Dobroslav Radov - a truly cordial servant, with open arms, paying no mind to politics! As he bid me farewell at the end of my visit, I departed with plentiful warm memories of the birds singing, crystal clear lakes, delicious birch sap and rustling leaves.
But recently I came to hear dire news. One night a giant spider spawned by the astral, made its way to the Great Tree and poisoned it, causing Dobroslav and his followers to go mad. He now calls himself Evildoer the Poisonous, and there is nothing left in him of the kind-hearted sage he used to be. Instead, he and his servants offer bloody sacrifices to the Desecrated Tree! The entire island swarns with venomous spiders that their queen, the Black Widow, breeds at a frightening pace. Blackvenom is hiding somewhere in the heart of the forest... But if one were to tear out the hearts of the insane pagans and burn them in the cleansing fire, thereby giving them peace, Blackvenom is sure to show himself. And if he dies, the corruption shall be gone from the forest forever.
I beg you to cleanse the Desecrated Forest! Kill the Widow and Blackvenom, and maybe the soul of he who was one Dobroslav will find peace...