Bard
Talk

1
2,900pages on
this wiki
The Bard is the newest class to be added to Allods Online.
Bard
RACIAL SKILLS
Kanian
6s Immobilise
Elf
6s Blind
Xadagian
6s Silence
Orc
4s Stun
They use music in order to heal or buff their allies and damage enemies. But it's not just music, it's magic that is summoned by the use of music.
They have very powerful supportive spells called Marches with which they can provide huge benefits in combat to their teammates and themselves. In a party with several bards, their Marches will only stack together if they are not of the same type, e.g. a March of Robust Health may be active while a March of Energy Surge is active, but two Marches of Energy Surge cannot be active at the same time.
Some people say Bards are "Overpowered". This is not true. They deal a lot of damage, yes, and they can heal with Nocturne, debuff their enemies and greatly buff their allies, but only the Orcish Bards have a means of stunning their foe (Foul Blow). This is why in a fight where a Bard faces a Warrior, the Warrior will win if he or she uses his or her stuns correctly, but if they fail to use their stuns in time, the Bard will prevail. It is completely fair and there is nothing overpowered about them, but they are extremely powerful together with other players.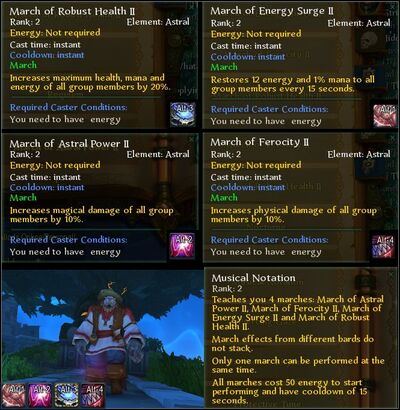 Bards can only use Leather armor and may also equip any one handed long weapon: Swords, Maces, Axes, and Spears. They also have an off-hand slot to use a bauble.
They use energy to power their abilities and in most cases the energy use is quite high since their energy regeneration is reduced by the amount of songs they are performing at the time and most abilities cost 40-60 energy for activation. Energy comsumption and regeneration rate may be altered by using Rubies. They do, however, have a very useful spell that costs no energy at all: Acoustic Barrier.