Demon Hunters' Sanctuary
Talk

0
2,880pages on
this wiki
Demon Hunters' Sanctuary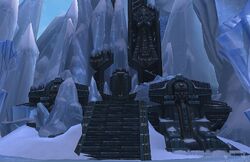 [[ Sector|]]
Also referred to as Glacial Chamber. Snowy "paradise" with yetis, wolves and bear families wandering around the roads.
Cold
Kill 25 wolves around the circle of stones to get the buff. Then you can summon this bear. From time to time he gets buff reflecting the received damage to the party (purple circle around him).
Gulper
Fish ruling the little lake. Spawns smaller fishes that attack party members and cannot be aggroed by anyone else.
Freezee
When the totem appears, destroy it as soon as possible. Boss also lowers the defense of the target at the late stage of the fight.
Yaver Arteia
Spawns lynxes and circles on the ground that deal damage after a while.
Astral traveler Fedor Stablemanov informs: