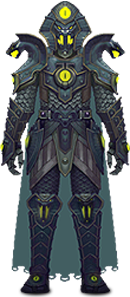 | | |
| --- | --- |
| Faction | Empire |
| Archetype | Occultist (Psionicist) |
| Armour | Cloth from Level 1, Leather from level 20 |
| Specific Ability | Stress Coping - Clears the mind of the caster. |

Class Background
The Arisen passions for magic studies have led them to master a new discipline, mind control. The vast majority of Zems were formerly mechanically enhanced people who developed their mind to be their main instrument two thousand years ago. Nowadays Occultists can be found in the MANANAZEM Research Institute, on the battlefields and in the basements of the Committee where their art helps the Imperial Intelligence Service.
Ad blocker interference detected!
Wikia is a free-to-use site that makes money from advertising. We have a modified experience for viewers using ad blockers

Wikia is not accessible if you've made further modifications. Remove the custom ad blocker rule(s) and the page will load as expected.