This situation with the hidden weapons requires our immediate attention...
Objective
Find and mark 5 weapon caches in the Southern Birchwoods and report back to Pavel Isaev.
Completion
Good, now we have one less problem to worry about.
Rewards
Notes
The caches are hidden in the bushes in Southern Birchwoods. The caches are guarded by Birchwood Bandits, who spawn when you mark a cache:
Note: This quest gives most people a problem when trying to use signal becon if it dosent work abandon quest then accquire the quest again...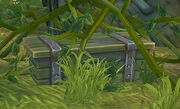 Ad blocker interference detected!
Wikia is a free-to-use site that makes money from advertising. We have a modified experience for viewers using ad blockers

Wikia is not accessible if you've made further modifications. Remove the custom ad blocker rule(s) and the page will load as expected.