Soil particles discovered under creatures' claws. Theory - creature resides underground. Suggestion - check accessible territory. Loading updated geographic data...
Communication with creators lost - updates inaccessible. Subordinate machine is to search creatures' surrounding locations. Check for subterranean passages, and report results to Vir-Gar machine.
Objectives
Drill in 6 Strange Soil mounds and report the results to Vir-Gar.
Completion
Final assessment of wormface population completed. Creature are aggressive and hostile. Origin - uncertain. Mode of life - unknown. Much time spent in hibernation underground. Reason for awakening - foreign influence. Subject to termination.
Rewards
Notes
The Strange Soil mounds are located north of Western Horn. Each time you interact with one, a Wormface will spawn and attack you: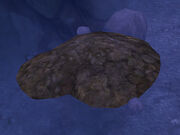 Ad blocker interference detected!
Wikia is a free-to-use site that makes money from advertising. We have a modified experience for viewers using ad blockers

Wikia is not accessible if you've made further modifications. Remove the custom ad blocker rule(s) and the page will load as expected.