Quest:The Weapons of Fallen Recruits
Talk

0
2,880pages on
this wiki
There are a lot of valuable resources in our world… But there's nothing of much value here in the Igsh Military District.
Except weapons! This is the most valuable resource for army. There is a constant shortage for them!
Why? Because when young soldiers get a sword in their hands they start going nuts. They let the power go to their heads and let their guards down and that's when they make some sort of fatal mistake and end up in some ditch with our weapons! So I need you to go out and collect the swords, shields, and maces of the fallen!
I wasn't kidding about the ditches either, makes me wonder if they even had a chance to fight anything.
Objectives
Edit
Collect 5 IMD weapons for Clang the Forester .
Completion
Edit
Good. Now we'll have something to distribute to the new soldiers. Hopefully they'll have more smarts than the last batch!
The drop rate from the Fallen Recruits, is quite low. It is best, as you complete your quests, in Igsh Military District that you watch out for any dugouts/crevices to loot these weapons. The option "highlight interactive objects" (button T) shows skeletons and makes them visible from afar. Also note that Rubbish can also be now looted from the skeletons, so you may either get something or nothing at all.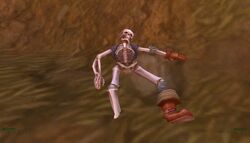 Suggested location: