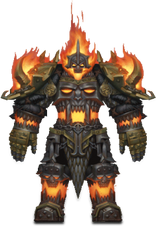 | | |
| --- | --- |
| Faction | Empire |
| Archetype | Reaver (Paladin) |
| Armour | Leather from Level 1, Plate from level 20 |
| Specific Ability | Reaver's Coup - Inflicts a direct melee damage and burns the enemy's mana or energy. |
Class Background
The first time Orcs met Paladins was during the Second Astral Campaign when the armies of the League and of the Empire united to throw the demons back to where they came from. At that time Kanian Champions and Orc Brutes were the backbone of the army.
The holy wrath of the Crusaders and the savage rage of the Orcs ensured victory. That campaign showed that unbelievable things can happen; former sworn enemies fighting on the same side, learning and estimating the powers of their rival. Orc Shamans wanted to bring up a Great Mage in the appearance of Orc Reavers. The new magic of Tensess, the magic of Light was an opportunity to learn. That is how Orc Reavers appeared.
It is worth mentioning that there are not so many true followers of Tensess amongst Reavers. They generally treat the necessary Rituals only as necessity.
It is well known that only true believers of the Sacrifice of Tensess can become true Reavers, able to do miracles. They are not many among the Orcs but from day to day the number of those who kneel before the Church of Light grows. We can say that Tensess became a "hero" for the Orcs: they worship his spirit as well as the other Orc fighters who worship the spirit of Scull.
Ad blocker interference detected!
Wikia is a free-to-use site that makes money from advertising. We have a modified experience for viewers using ad blockers

Wikia is not accessible if you've made further modifications. Remove the custom ad blocker rule(s) and the page will load as expected.